Private Cloud
Leverage the power of vast computing resources with enterprise-grade firewall and control
Managing confidential data and protecting it against contraventions are a few of the factors driving businesses to move to private cloud hosting. Executed within an enterprise's corporate firewall, private cloud hosting exceptionally fulfils the security and compliance requirements.
SoloIDC private cloud hosting solutions deliver inimitable competencies to your business so that you can innovate quickly and access an extensive pool of resources to respond to mutable business demands. Our experts work closely with your business to architect and deploy a befitting private cloud solution with no turbulences.
Take a quick glance at the various key skins of a private cloud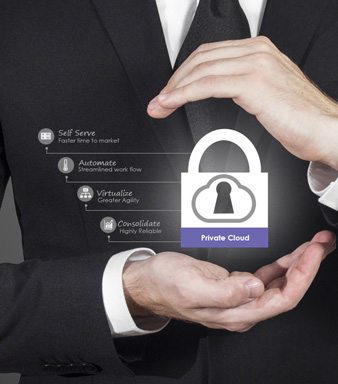 Various Advantages of Private Cloud Hosting
Focused-Approach
With our eagle-eye approach and robust techniques, we manage your cloud infrastructure and protect it against all threats to provide you with a convenient and hassle-free environment for your mission-critical applications.
Customized Storage
Powered by NetApp, we offer highly economical and enterprise-grade storage devices for your mission-critical data. Data storage is offered on various devices including SSA, SAS, and SATA hard drives.

24X7 Technical Support
We are available round the clock to assist you in the most complacent way. You can reach us through calls, emails or by having live chat with our experts.ications.

VM Template Library
Hundreds of ready to install VMs are available for your private cloud. All the templates swiftly work with Xen and KVM hypervisors and can be easily customized as per business needs.

High Availability
In case of technical snag or hardware component failure, our VM's can failover to the other active node in order to avoid any single point of failure, and, therefore, ensuring high availability for your website and applications.